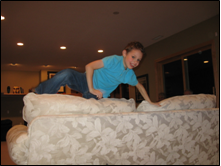 We had a delightful Thanksgiving sleeping in, enjoying the outdoors, and of course, EATING! We especially relished our new holiday tradition: a post-dinner obstacle course in which family and friends gather in the basement and devise a course incorporating physical challenges such as leaping over couches (see photo of my son, James) crawling under tables and jumping rope; feats of manual dexterity (dropping bamboo skewers into a small glass); and tests of memory (how many times do I rock in the chair?)
Young and old look forward to the "race."  My children start planning for it long before the adults plan the dinner menu. Everyone is engaged, whether by running the course, being a timer or commentator, or cheerleading.
Of course, this tradition got me thinking…
In planning our post dinner fun, everyone looks forward to creating a challenging set of obstacles and seeing how each person masters those challenges.  How could we bring that excited anticipation to the challenges and obstacles in our own lives?  Who enthusiastically cheers us on when we stumble?
Of course, part of the fun of the event is the competition. We are racing against the clock and each other but there is never a clear winner.  The goal seems to be to do your best and have fun at the same time.  What if we approached our lives with the same friendly competition and intention to do our best?
One more thing that adds to the delight: Nobody gets bent out of shape about the impromptu changes that happen as we run the course (like one of the spectators deliberately stepping into someone's path). We laugh and admire the contestant's ability to adapt on the fly.  How can we playfully handle the unexpected in our lives?
We are already making plans for next year. Would you like to join us?
https://coacholk.com/wp-content/uploads/2015/02/Olk-78.jpg
1072
1500
MaryOlk
https://coacholk.com/wp-content/uploads/2016/12/Coach-Mary-Olk-helv.png
MaryOlk
2009-12-17 22:33:21
2016-09-25 10:31:53
New Holiday Tradition: Looking Forward to the Obstacles